Keep the Money Coming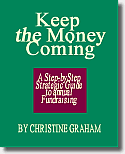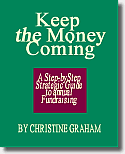 Keep the Money Coming
📚$15/copy when buying two or more.
📚Enter KeepBulk2 at checkout for your discount when buying two or more copies.
Originally published by Pineapple Press, this basic, readable book on raising money for annual operations will educate beginners, reinforce the skills of intermediates, and refresh experienced fundraisers. Systems, methods, tools and innovation are approached from a theoretical and practical point of view.